COVID-19 & Domestic Violence
An epidemic within a pandemic
By Tammie Johnson, AS, Paralegal, West Tennessee Legal Services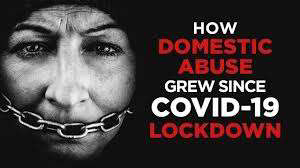 The COVID-19 pandemic changed the world as we know it. The ability to go to work and socialize with co-workers, friends, and family was something we took for granted. When the restrictions first came into effect, some people enjoyed being able to work from home and spend more time with family. Victims of domestic abuse are finding themselves trapped with their abuser 24 hours a day.
COVID-19 didn't create an abuser, but it did exacerbate tendencies for domestic violence abuse. Social isolation gives abusers more control. Abusers use isolation as a tool to control their victim and they are using COVID-19 as an excuse to make victims stay. Victims are now spending more time with their abuser and the time they normally would
have away from their abusers has now been restricted. This has resulted in an increase in domestic violence calls. For example, Jefferson County AL experienced a 27% increase in domestic violence calls during March 2020 compared to March 2019. (Boserup et al., 2020). This increase could also be a result of high stress levels. Quarantine has resulted in job loss which has caused stress levels within domestic relationships to rise. The abuser will often use financial loss and lack of social support as an excuse for their behavior.
Some victims are finding it more difficult to reach out for help during the pandemic. Social distancing has forced shelters to reduce capacity limits. Some victims may refrain from going to a shelter due to the fear of exposing themselves and their children to the virus. They are also less likely to report domestic violence to the authorities due to the quarantine restrictions. Victims are more likely to call law enforcement after the abuser has left but since the pandemic the victim is often stuck with the abuser.
Awareness of domestic violence is crucial during the COVID-19 pandemic. Several things can be done to help victims of domestic violence:
Make neighbors, family members, and other bystanders aware of the signs of domestic violence, which will help raise the rate of which these incidents are reported to law enforcement.
Provide more housing programs to assist domestic violence victims and their children escape their abuser.
Increase knowledge of resources to access medical needs due to domestic violence such as healthcare and counseling.
Promote awareness of programs available to assist a victim with legal remedies such as divorce, child support and visitation rights.
This page is for informational purposes only and is not a substitute for legal advice from an attorney. All information was accurate at the time of posting. If you have further questions about this information please call 1-800-372-8346 or click here to apply for our services.